Choosing a digital service provider
Choosing a digital service provider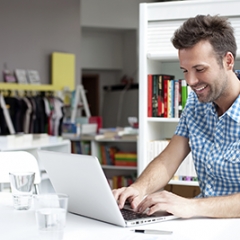 Exactly what you need to consider when choosing who to work with will vary from company to company. This article aims to break down the key areas you need to consider and help you decide what will work for you.
Skill set
The most important thing you need to know about the team you work with is what they can do. We highly recommend working with experienced planners who can suggest an approach which suits the project (it sounds obvious but it doesn't always happen!), designers who understand the web (rather than print designers) and developers who can write good code.
The last one of those criteria can be hard to judge - which is where we come in. Using our search you can look for front end developers, who can code how things look and how they're laid out - or backend developers who can code how things work.
If your site is a basic brochure site, and will only ever be a basic brochure site, then you may only need a good front end developer who can make it look great (based on a design from a designer). Depending on their skill set they may be able to wrap the code they produce (HTML and CSS) around a piece of software such a WordPress so you can update the site yourself.
If your site needs to be do anything clever - from shops, to logins, to anything other than just pages of content - you will probably need a back end developer who can code what you need. "Proabably" because if there's a piece of software that does what you want "out of the box" then again, a front end developer may be able to wrap their code around it. But one day the time might come where you want to spread your wings a little further, or push the software a little more to it's limits - and that's where you can wish you had a back end developer on board (who can code in something such as PHP).
Ask your developers about what they can do - are they tied / reliant on a piece of software that fits their skill set or comfort zone or can they deliver you whatever you need if required?
Size of the team
The size of a team doesn't always dictate the level of service you'll receive. If a large company is split into teams who work on different projects, it doesn't necessarily mean anyone else will be able to help you if the developer from your team is on holiday. Having said that, a really small team might mean there's no one to answer your calls or reply to emails super speedily. Some sites aren't big enough to warrant too many developers working on them at once - they'd just trip over each other and it'd do more harm than good. Overall, you need to chat to people about how they handle their work load and how they'd work on your project.
Geographical location
If you're a company that likes frequent face to face meetings, you'll need someone near you. But consider how important this really is to you - could you use Skype if it meant you could broaden your search? For my day job I'm based in South West England yet I speak most days to a client in Mexico, US. We've never met but have done continous techical work together for the last 4 years. In the end this one just comes down to personal preference and who's nearby.
Price
Web projects are sometimes quoted for at a daily rate, and sometimes on a project basis. If something's a fixed quote then the price generally has to include some contingency for unforeseens, as in any industry.
When you're getting quotes try to ensure they're for the same things - use our services to help you compare quotes if you're not sure. You can only truly know if 1 price is cheaper than another if you know what's being quoted on.
With regards to day rates, they don't mean anything without an estimate of time. A junior developer might be half the price of a senior developer but take 3 times as long and not bring so much experience and background knowledge to the project. The web is certainly a place where background knowledge is invaluable. No one can know everything about the web - but someone who's been there and done that a hundred times before could be more help to you than someone without much experience. Having said that, some basic tasks don't need an expensive senior developer - so consider your project and speak to your supplier so as to ascertain that the right person can carry out the right job.
The Knowledge Base
Our knowledge base is split into categories, with an introdution to various differnt aspects of that category, followed by current topical articles which we constantly add.