Moving money between PayPal business accounts in order to withdraw.
Moving money between PayPal business accounts in order to withdraw.
16th Apr 2013
I'm writing this post, as much as anything, as a reminder for myself when I next come to do this – to save me spending the half an hour I just have looking back over 2 years of PayPal transactions in 2 accounts to work out what I did last time!
My company has got 2 PayPal business accounts. In our case, this is because we were 2 sole traders who now work together and are a limited company.
For lots of other people you may end up with 2 PayPal business accounts because you run a couple of websites, or trade under a couple of different names, and so you have various online checkouts which you need to show relevant names. An example might be that you run a website selling handbags, and you also run a website selling shoes. When people checkout from i-sell-handbags.com you want them to see "i sell handbags" as the name on the top of your PayPal checkout. Meanwhile when people checkout from i-sell-shoes.com you want them to see "i sell shoes" as the name on the top of your PayPal checkout. Your customers may be confused and abandon the transaction if they feel that they're suddenly giving payment to a different website than they were just on, even though the business behind the transaction is one and the same. If you're big and pay PayPal and have a super-dooper account you can have "child accounts" within your main account so that the right name can show on the checkout. If you're not big and have a super-dooper account then the easiest way of showing the right name is to open a new PayPal account.
So that sounds fine, and probably isn't ideal for PayPal but needs must, in this situation.
However, whilst you can have several bank accounts associated to a PayPal account (8, I believe currently), a bank account can only be associated to 1 PayPal account. So you could have an account with Barclays, an account with Lloyds and an account with HSBC tied to your first PayPal account. But when you try and associate any of these accounts with your next PayPal account, they'll tell you "sorry, this bank account is already in use on another PayPal account".
So this means after a while of selling shoes and handbags from your respective websites, you can end up with a juicy PayPal balance in 2 different accounts – both of which need to be transferred into the same bank account.
You could just use another bank account to get the money out, but unless you verify a bank account with PayPal there's a cap on how much you can transfer. And when you verify a bank account you need to jump through a lot of hoops and you may find that a name on your supplementary PayPal accounts doesn't tally with something on your bank account so you can't verify it. I also suspect that PayPal would look for a business name on a bank account to match your business name on your PayPal business account so I've always been nervous about transferring money into a personal bank account from a PayPal bank account in case the names ultimately don't match and I get charged bank and/or PayPal fees.
So you'll end up wanting to transfer your funds from your supplementary PayPal accounts into the 1 that's associated to the correct bank account, so that from there you can withdraw it into your hot little hands.
But of course you've already paid fees on this money when PayPal took it from your customers for you so you certainly don't want to pay fees on it again.
And now we get to the point of this post – to transfer fees from 1 PayPal business account to another so that you can withdraw it into a bank account, without paying fees on the transaction along the way, you need to do a personal transfer.
From the tabs along the top of your PayPal account, select "Send Money" – you'll see the screen below: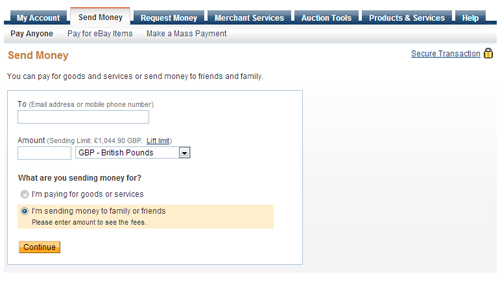 Enter the email address of your PayPal account where you want the money to end up. And then enter the amount your want to transfer – ensuring it's not more than your PayPal balance so you don't face any additional credit card advance fees.
And then – and this is the main bit – select "I'm sending money to family or friends". Once you enter an amount the screen updates to show you the fees, and provided the amount you're sending is within your PayPal balance, it's £0.00.
I've just done this between 2 accounts and the receiving account wasn't charged to receive it. I could then withdraw the funds into my bank account.
The Knowledge Base
Our knowledge base is split into categories, with an introdution to various differnt aspects of that category, followed by current topical articles which we constantly add.