Compatibility View in Internet Explorer 9
Compatibility View in Internet Explorer 9
13th Nov 2012
First published on TalkingWeb.co.uk
Microsoft have given Internet Explorer 9 a "Compatibility View" option which means if it detects a website is slightly older, or has code which would mean it would appear broken to you on the latest version of IE, it corrects it for you.
How it goes about this, is that it seems to make itself act like Internet Explorer version 7.
When you visit a website using Internet Explorer 9, you'll see an icon in the address bar that looks a little bit like a torn piece of paper.

If you think the page you're looking at is a bit broken, you can click this icon and it'll go dark blue – indicating that you are now in Compatibility View and subsequently seeing the website as if you're using Internet Explorer version 7.
Sometimes however, this setting can get in the way of functionality and even if you haven't clicked the icon in your tool bar, it can still come into play with negative results, because you're effectively using an older browser – great for old websites, not so great for new ones!
In order to see if you have Compatibility View turned on by default for specific sites (or all sites), press the alt button on your keyboard to see a menu appear, and select "Tools". From there, select "Compatibility View Settings".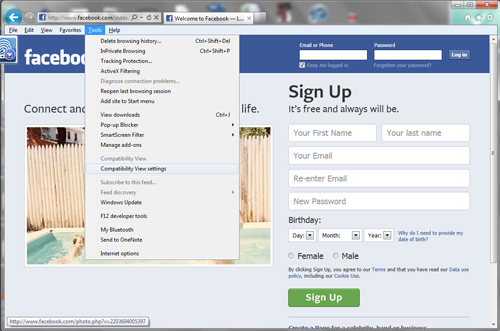 In the pop up that appears, you can see which websites you have Compatibility View selected for. You can add sites by typing them in the "Add this website" box and clicking "Add", remove sites by clicking on them in the list and clicking the "Remove" button, or tick the bottom box to "Display all websites in Compatibility View" (but I wouldn't!).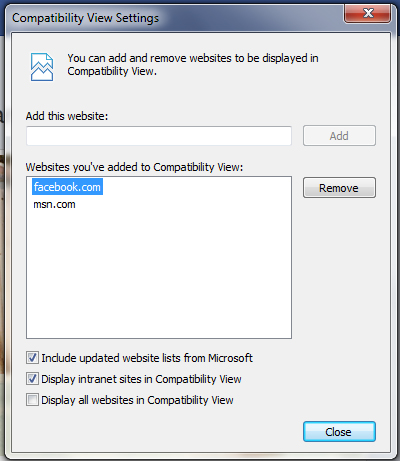 If you've done the above but still think Compatibility View might be kicking in, there's also a reference to it in the settings options. On the far top right of your browser, click on the cog icon and select "Internet Options".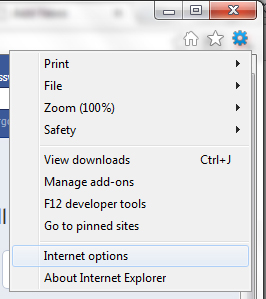 Then under the "Advanced" tab, look for the following: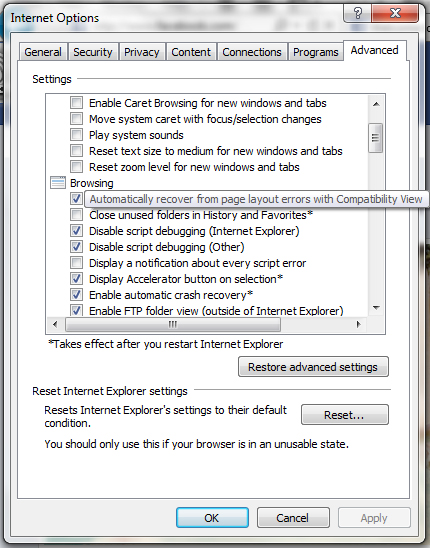 Untick the box and click "Apply" before "OK".
The Knowledge Base
Our knowledge base is split into categories, with an introdution to various differnt aspects of that category, followed by current topical articles which we constantly add.