Guild member 18a launches new e-learning tool pilot for primary schools
Guild member 18a launches new e-learning tool pilot for primary schools
5th Sep 2016

The Aim
18a Productions based just outside of Bristol in the sunny Somerset countryside, were approached by The Mead Community Primary School to design and build a digital tool for the Maths Counts project; one to one and small group support for children struggling with Maths.

They were tasked to design and build the new maths intervention tool to allow a large amount of user interaction. The tool needed to include a number of different interfaces for various user levels including Admins, Maths Leads, Learning Partners, pupils and parents / guardians.
The Build
18a designed and built the bespoke system on a MVC framework in order to incorporate all of the required aspects. The Maths Counts programme has been run as a paper based activity for a while, and the tool is designed to help Learning Partners access the great wealth of activities put together by the Maths Counts team whilst ensuring they focus on the areas particularly relevant to the Pupil in their care. Results of an initial diagnostics test for each Pupil are added to the tool, so the system can then highlight and track the objectives which still need to be covered ("secured") for each child.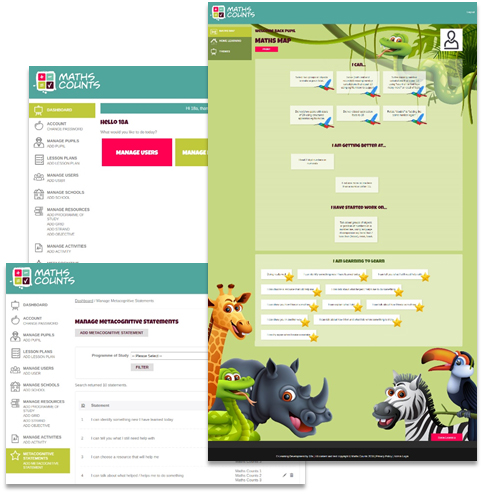 Arranged over 3 Programmes of Study for different abilities, and then laid out in Grids and Strands inline with the curriculum, Learning Partners can quickly and easily find relevant activities for their Pupils, and work either online or create a PDF Lesson Plan for quick reference in the class room. During the planning phase it became apparent that many activities suit different programmes of study, so 18a devised an activity pool to avoid duplicating content and make it very quick for Admins to populate the content of the tool.

A major feature of the tool is the Maths Map; a page which can plot a child's achieved objectives and things they are working on. The original Maths Map exists in the form of a large sheet of sugar paper with sticky notes for the objectives, so 18a were tasked to create an interactive, digital version! Pupils move each 'sticky note' (or objective as they are known) into different areas of the Map to show their progress throughout the sessions. Pupils can even choose from 1 of 4 different customised themes including Space, Under the Sea and Jungle!

Progress can also be recorded via a Learning Gallery, where Pupils can show their parents / carers photos and videos of them at work.
The Finished result
Maths Counts is an interactive, fun and informative system which allows more Pupils to get the expert support of Maths Intervention experts and allows parents to stay involved with what's going on. The Maths Counts intervention is in a Trial phase so is not available for sale and cannot be accessed unless a school has already been recruited. But we can't wait until it is rolled out in schools across the nation!
Know a great web designer, developer or marketer?

Tell them to apply to join The Web Guild - it's free for anyone who gets a company profile approved before the end of March! Read our How it Works page or sign up here!